Dawn Marie Dechand
Affiliated Faculty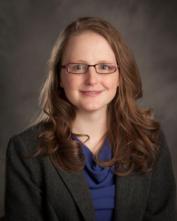 Biosystems and Agricultural Engineering
WEBSITE
https://msuecoeng.wordpress.com/
---
BIOGRAPHY
Dr. Reinhold started as an Assistant Professor at Michigan State University in the Ecosystem Engineering group of Biosystems Engineering in 2008.  Dr. Dawn Reinhold received her Ph.D. in Environmental Engineering at Georgia Institute of Technology in 2007.  Her thesis focused on fate of fluorinated pollutants in duckweed systems.  Before starting at Georgia Tech, Dr. Reinhold received her B.S. in Biological and Agricultural Engineering and Natural Resources and Environmental Sciences (secondary major) at Kansas State University in 2002.
As an associate professor, Dr. Reinhold juggles engineering research, undergraduate teaching, SOTL research, and professional service.  She is currently teaching BE 332: Properties of Biological Materials, BE 482: Diffuse Source Pollution Control Engineering, and Ecological Engineering in the Tropics (a study abroad course in Costa Rica).
In her spare time, Dr. Reinhold enjoys nature photography, soccer, camping and hiking, and knitting.  She volunteers with Parks in Focus, an activity coordinated by the Morris K. and Stewart L. Udall Foundation that connects youth from underserved communities to nature through photography.
---
AREA OF EXPERTISE
---